At the moment when the heating season is approaching, it is time to prepare properly. For households that heat with solid fuel, wood for heating is often a necessity.
Wielding an ax is strenuous and time-consuming. In this regard, a wood splitter is an effective and modern way to prepare for the heating season.
Using a wood chipper brings with it many advantages. First of all, it is important to perceive the fact that the investment in such technology is long-term. Households that heat with firewood can save money in the long run by not having to pay for overpriced split logs. They prepare wood for the heating season by themselves. Compared to an ax or a chainsaw, splitting wood is faster, more efficient, less physically demanding and at the same time safer.
Horizontal or vertical wood splitter
There are two basic options that you can consider when choosing. These are different design solutions. Horizontal wood splitters are more popular in terms of sales. The reason is not only the affordability, but also the storability and weight of such a structure. The second option is represented by vertical wood splitters, which have a higher purchase price, but also a higher performance.
The splitting pressure of horizontal models is somewhere around 4 to 7 tons. For vertical splitters, it can reach 20 tons and more. In both cases, the splitting pressure is created by a hydraulic press with a blade or mandrel, which presses the wood in a horizontal or vertical position. Vertical splitters can split logs with a larger diameter of up to 60 cm. They can handle wood up to approximately 30 cm horizontally.
Electric wood splitters are more affordable
In terms of maintenance requirements, electric wood splitters are a better and more affordable option. They require connection to a 230 V electrical network. In some cases, it is necessary to connect to a high current of 400 V. The power consumption of such a device reaches a value of 1,500 to 5,000 W, taking into account the cracking pressure. Splitters with a gasoline or diesel engine are more powerful and more expensive. Rather, they are intended for professional and craft purposes of carpenters, carvers or woodcutters.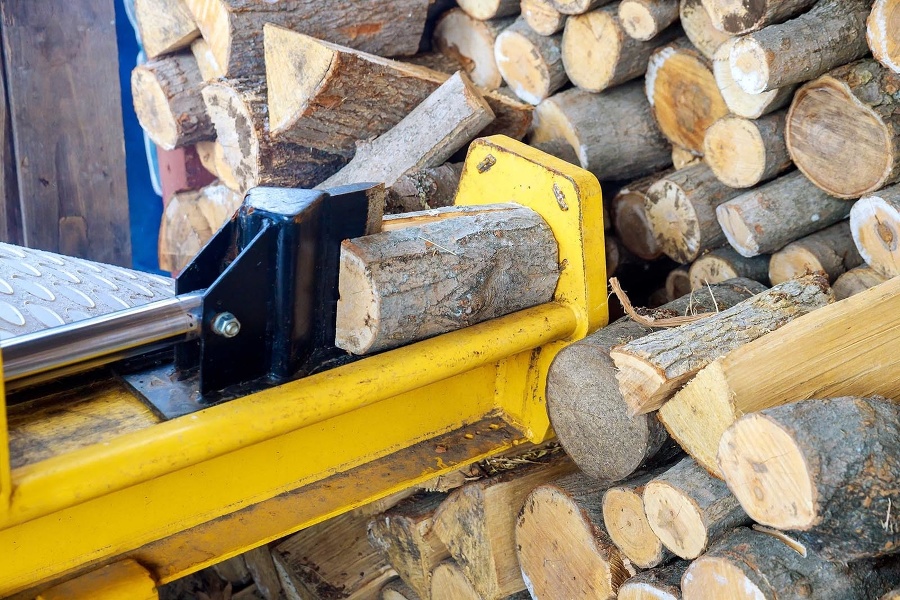 Open the gallery
Cheap wood splitters do not disappoint
Market research shows that the most popular are wood splitters in the price range from 300 to 700 euros. Cheap wood chippers can be bought for 300 to 450 euros. In this case, these are basic models of horizontal wood splitters. Even such devices can easily handle the preparation of logs for heating. The maximum length of logs for splitting is limited to a maximum of 35 to 55 cm. The price for professional vertical wood splitters can easily exceed 1,000 euros and more.