A policeman was killed in a knife attack in Brussels on Thursday. According to sources from the investigation, it was probably a terrorist attack. TASR informs about it based on the report of the AP agency.

TASR,
CTK

10/11/2022 21:55, updated: 21:59
Another policeman was also injured in the attack. The incident took place near one of the three main railway stations in the capital of Belgium – Brussel-Noord.
As reported by the British newspaper Express, two of their colleagues responded to the attack on two policemen by shooting and, according to the police statement, they "neutralized" the assailant, but did not kill them. The paramedics later took him to the hospital with his injuries.
According to Le Soir, the attacked 29-year-old police officer succumbed to injuries caused by a knife after being taken to hospital. His colleague has a gunshot wound in the groin area.
According to local media, the attacker shouted: "Allahu akbar!" (Arabic: God is the greatest).
"My thoughts are with the family and friends of the deceased police officer," Belgian Prime Minister Alexander De Croo wrote on Twitter. He expressed hope that the other police officer who was taken to hospital is doing well.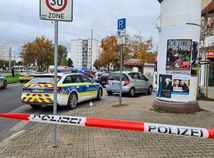 Read also Two people died in a knife attack in Germany, the perpetrator was arrested