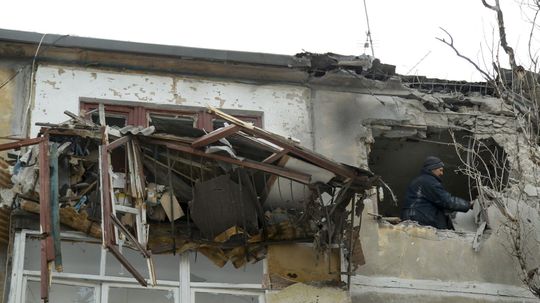 Ukraine's energy infrastructure came under Russian attack again this week, leaving millions without power. As temperatures across the country plunge below freezing, there are fears that Moscow – which is struggling to win the war it has waged – is using the winter as a weapon. And nowhere is this more evident than in the cities along the front line in eastern Ukraine. In Avdijivka, people learned to distinguish an incoming artillery shell from a departing one by the sound. However, there is often no point in hiding. Pieces of shrapnel can break through a metal door like paper, writes BBC News.
"You don't get killed by accident in war. You'll survive by chance," says 71-year-old Anatolij, who had to move into a basement after his apartment was destroyed by fire after shelling. Now he is afraid to leave his hiding place. "Going to the store or taking out the trash is an act of courage. You never know if you're going to come back or not," he says.
Avdijivka has been on the front line since 2014, when the conflict broke out in eastern Ukraine. After Russia invaded Ukraine in February, many predicted the city would fall quickly. Nevertheless, it is still under the control of the Ukrainian armed forces. In a way, Avdijivka has become a symbol of Russia's failure in Donbas. However, the constant bombing has turned it into a ghost town. Its once bustling streets with colorful murals on buildings are now deserted.
According to the head of the military administration of Avdijivka, Vitaly Barabaš, Russian forces continue to try to encircle the city from the south and north. "They cannot launch a direct attack because our positions here are well fortified, so their tactics are simple – level everything to the ground, constant shelling with artillery and rocket launchers," describes Barabaš.
Despite daily attacks, about 2,000 people remain in Avdijivka. Many of them survive thanks to humanitarian aid provided by local and international organizations. Most people no longer have any income.
Oleksij Savkevich organized art festivals and events for youth in Avdijivka before the war. Now he delivers food packages in a war zone, wearing a bulletproof vest. "Pensioners cannot withdraw money and people have lost their jobs, so they are dependent on food deliveries delivered by volunteers," he describes.
As the temperatures drop, a new enemy appears – the cold. Most people pin their hopes on the old metal ovens called "bourgeois" that were popular a hundred years ago. There is no gas or running water.
To stay in touch with the outside world, people meet in the morning in a place where there is electricity and mobile network. The authorities have set up a place where the generator powers the mobile antenna. Visitors sit on the stairs and check the latest news on their phone screens. At the entrance stands a table covered with extension cords and chargers. Silence is interrupted by the beep of received messages.
Almost everyone here says they don't want to leave the city. "I'm not ready to live in camps and move from place to place as a homeless person," says one woman. "And I can't afford to rent an apartment," he adds. One man explains that he will not leave because of his grandmother, who is adamant and wants to stay in Avdijivka.
However, local authorities are urging people to evacuate as soon as possible. They warn that many residents will not survive the coming winter. "We tell them that we will not be able to provide food, we will not be able to evacuate people, even if someone decides to leave, because the roads will not be cleared (of snow)," says Barabaš. "We tell people – do you understand that even if you don't starve to death, you can just freeze to death?" he adds.
The ambulance service does not work in the city and medical assistance is very limited. There is a doctor who now lives in the hospital. At the same time, he fears an increase in cases of diseases, given that people live in extreme conditions.
Sixty-year-old Olena still lives in her destroyed apartment. The windows are broken and the floor could cave in at any moment. The building was hit by an artillery shell, which left a large hole in the wall. Without gas or electricity, he cooks his food on the fire in front of the house. "Maybe I'll leave. If they shell it here again, they could blow up the whole building. All those flats below mine are destroyed," he says.
And while she's waiting for her soup to cook, an artillery shell flies over her and lands a few hundred meters away. Time to go hide inside. The sounds of explosions and gunfire remind everyone that winter in Avdijivka brings many dangers.