An Algerian court has sentenced 49 people to death for the lynching of a man unjustly accused of starting forest fires in August last year, reports AFP.
A court in the city of Dar al-Baidah "sentenced 49 people to death for the murder of Jamal bin Ismail and the mutilation of his body," local media reported. He sentenced the other 28 defendants to prison terms of two to ten years. The North African country has maintained a moratorium on executions since the last executions in 1993.
An enraged mob beat 38-year-old Jamal bin Ismail to death in the Algerian province of Tizi Wazou and then set his body on fire. The man had previously reported himself to the police station because he had heard that he was suspected of arson. It later emerged that he had arrived as a volunteer to help put out the fires. They claimed at least 90 lives across the country.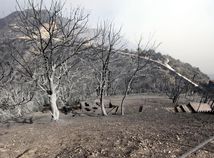 Read more 42 people, including 25 soldiers, died in the fight against fires in Algeria
Shocking footage of the lynching spread on social media has sparked outrage in Algeria. The local human rights organization LADDH called for calming the situation and bringing the persons responsible for this "heinous murder" to justice.
The fires were caused by a severe heat wave, but the authorities also blamed arsonists and "criminals" for their origin. They also blamed the independence movement of the Kabylia region, which stretches along the Mediterranean coast and is home to a majority of Berbers.