They went through several serious injuries, but they never gave up. Pupils of the Deep primary art school in Martina Alžbetka (15), Matúš (15) and Tamara (14) became world champions in disco dancing in Sweden just a few days ago.
They thus achieved a historic success in Slovak modern dance. However, the road to it was quite complicated and at times it looked like they wouldn't even go to the championship.
Martin can enjoy gifted students! Schoolchildren and dancers from the Deep elementary art school took part in the world championships in Katrineholm, Sweden. 1,215 competitors from 16 countries and two continents took part in the championship. The Slovaks returned home with extraordinary success – individuals and the entire dance club brought the title of world champion from Scandinavia. Despite dealing with various injuries and problems, they put up an extraordinary fight and it brought them great recognition. But it didn't always look rosy.
Three titles
Director Sabina Petrovičová says that they no longer even hoped that they would be able to participate in the championship. "Alžbetka (15) had her leg broken three times in the past years, but these injuries did not deter her, she trained honestly and together with Matúš (15) gave an incredible performance this year and they became world champions in the disco dance duo JVK II," she does not hide her joy. As if that wasn't enough, similar injuries plagued other members as well.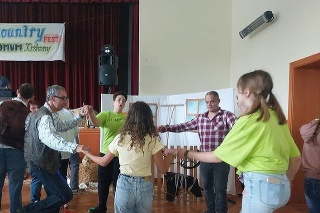 Matúš also suffered a fracture, and dancer Tamara (14) also injured her leg at the beginning of the year. "She recovered from this injury for 2 months, but despite this, she gave an above-average performance at the JVK I World Championships in the discipline of disco dance freestyle and won the gold medal," Petrovičová added.
The paradox is that the aforementioned three dancers with the most serious injuries won the biggest titles this year – champion of Slovakia, Europe and the world. This is already the third foreign competition of the season for the entire Martin ensemble. They recently returned from the World Cup in Poland and brought the World Cup with them.