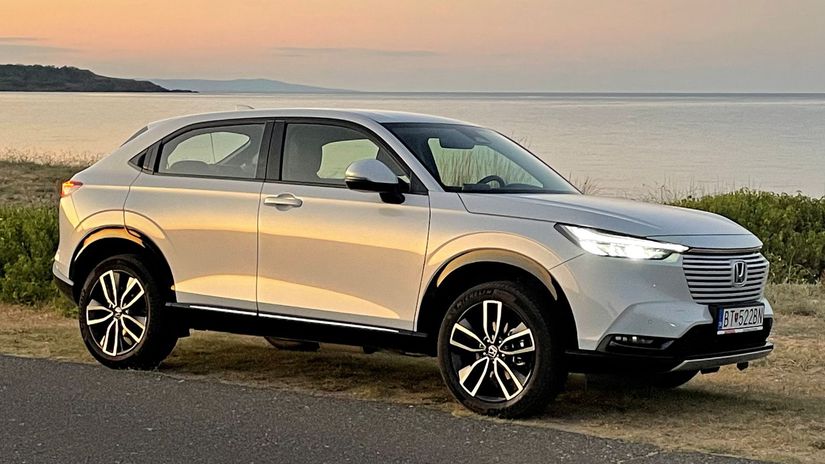 Photo: Tomáš Andrejčák
Honda HR-V – test Bulgaria 2021 We spent more than 3,000 km behind the wheel of the Honda HR-V. The target was the beaches of the Black Sea. Enough for us to check how its atypical hybrid drive works.
Honda HR-V of the third generation got our hands a long time ago. We published a detailed test in May. But now we had the opportunity to go through a really long "haul" with the hybrid crossover. Choosing a car for the trip to Bulgaria and back was not accidental. It is said that ordinary hybrids are not really built for highway operation and that their floor is the city. But we had 3,200 km ahead of us, mostly on expressways. We wondered if the new HR-V could cope with such a demanding task. Especially if its hybrid system has little in common with classic hybrids. The Hodna concept is more reminiscent of an electric car than a car with a combustion engine. Except that the supply of batteries is missing. It is replaced by a generator.
More electric car than hybrid
Behind the designation 1.5 e:HEV hides a traction electric motor with an output of 96 kW and a torque of 253 Nm. It is powered by a generator connected to a 1.5-liter 4-cylinder i-VTEC, working in the Atkinson cycle. It offers 79 kW at 6,000 rpm. The combustion engine is directly connected to the front wheels only at higher speeds, so that there are no unnecessary losses resulting from energy conversion. So there is only one transmission, the ratio of which corresponds to the usual "five" or "six". However, you will not know what the engine speed is in this mode, say at 100 km/h on the highway, because the HR-V does not have a tachometer. Hybrids basically do not need them, because the relationship between revolutions and speed is not fixed. The hybrid system has a life of its own, so to speak.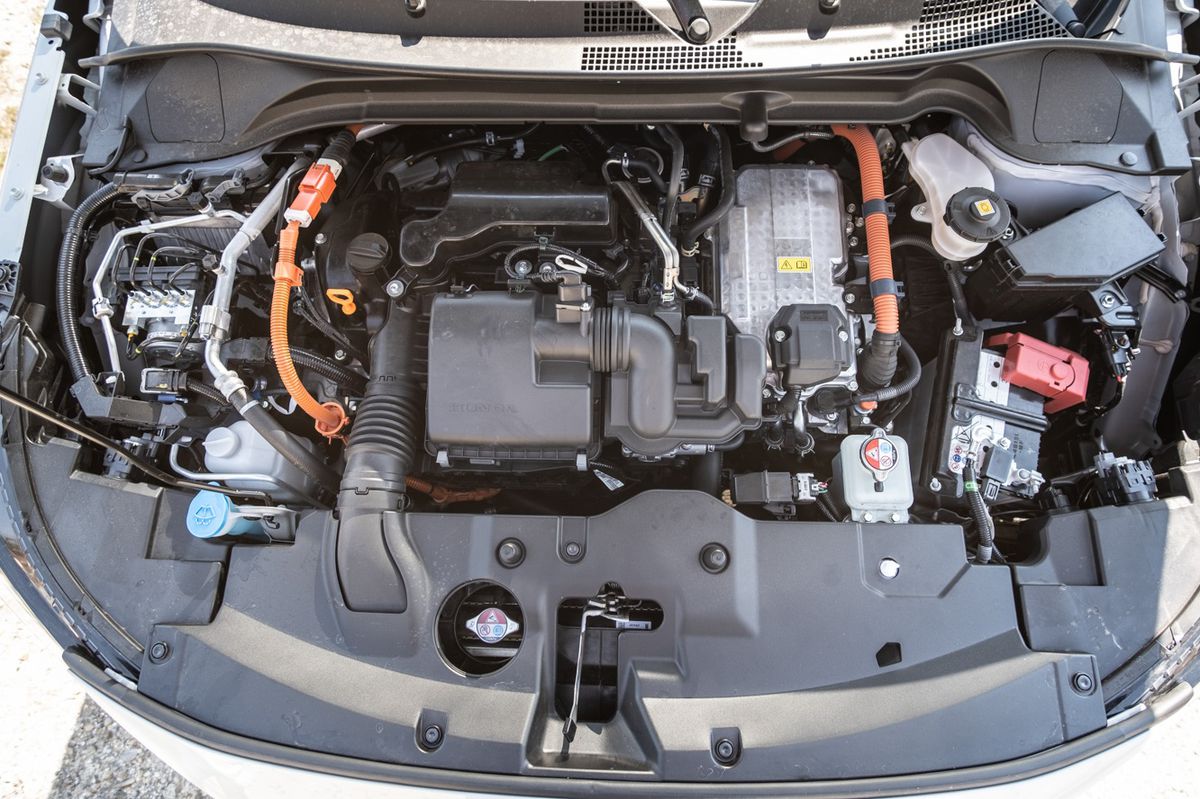 Photo: Ľuboš Pilc
Honda HRV – test 2022 There is an internal combustion engine under the hood, but the main traction motor is the electric one. It has 96 kW. Thanks to this, the HR-V drives extremely smoothly. Almost like an electric car.
A huge advantage is that the priority electric drive brings a smooth and harmonious start, just like with electric cars. It is very pleasant. The HR-V tries to work as much as possible in purely electric mode and recuperate when decelerating, which is another reference to the world of electric cars. You can even set the rate of recuperation in four stages with the paddles on the steering wheel, or choose the maximum rate of recuperation by moving the selector to position B. Even so, the braking effect is set in a friendly manner, without extreme deceleration, which often bothers owners of electric cars, especially if it cannot be turned off. The HR-V is very friendly in this regard and knows how to make the most of its inertial energy. The dynamics of his "green" drive are not bad either, although he is not an athlete.
The dynamics are enough
The HR-V accelerates to 100 km/h in 10.6 seconds. Similar to the previous "non-hybrid" version. But it has specifics. If you ask the HR-V for sharper acceleration, it has no choice but to send the internal combustion engine into high revs. This creates an effect similar to CVT transmissions, although, of course, it is not here. This happens whenever the car needs enough power. That is, even when going uphill or when you require a highway pace. The small battery it has is just a kind of energy reservoir. If she needs more, the engine immediately "calls". It's just part of the character of this car. But Honda did their best to make the "mixer effect" not too annoying. The engine is excellently soundproofed, after all, like the entire cabin.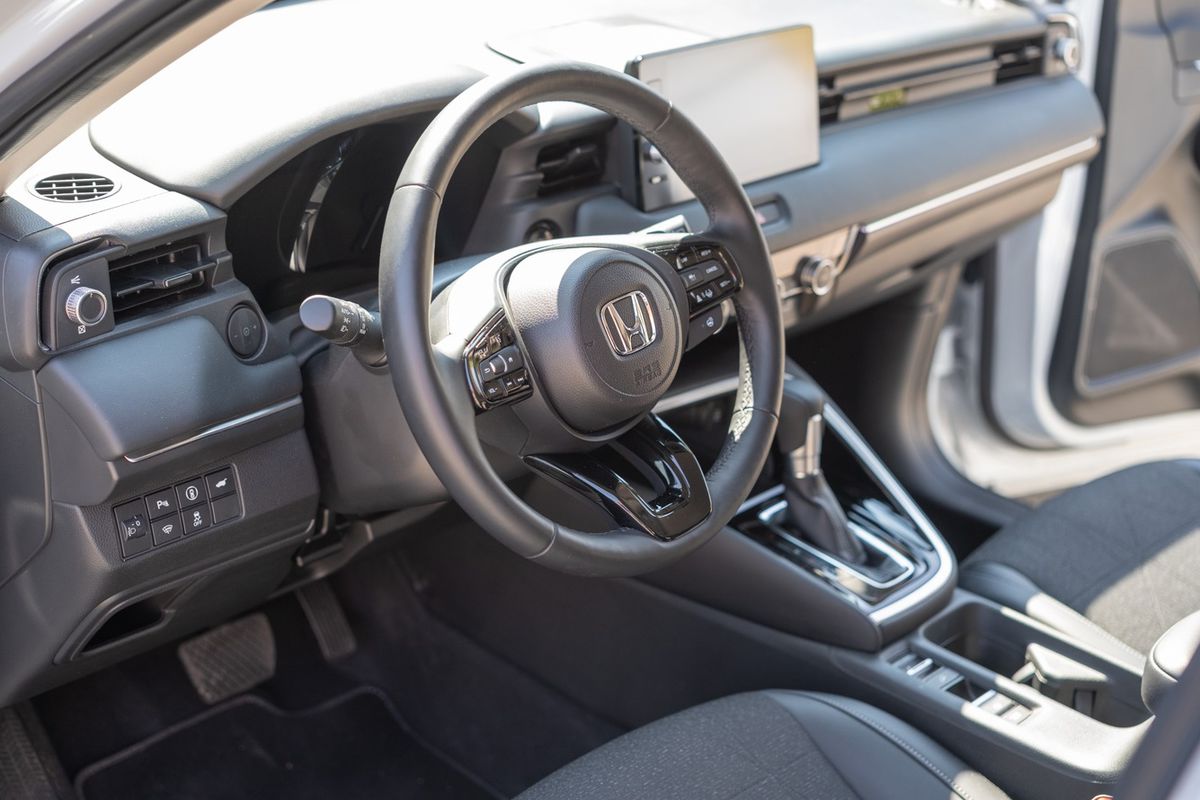 Photo: Ľuboš Pilc
Honda HRV – test 2022 The interior is literally premium. The materials, seats, steering wheel and full instrument panel are great. And especially – enough hardware drivers.
If you want more dynamics from the HR-V, you can choose the Sport mode, when it reacts to pressing the gas more readily. But in the end, you prefer the standard setting and start to focus more on economical driving. After a while, you'll get used to the hybrid drive perfectly, so if you don't push it too much, you'll find that it works even without frequently "visiting" the high-rev range. And then the HR-V can repay itself with magically low consumption. On our way to the Black Sea, we passed through Hungary, Serbia and all of Bulgaria. In addition, we were returning through Romania, even passing through the beautiful Transfagaras pass, where serpentines will take you up to a height of 2,044 meters above sea level. In total, it was more than 3,200 km, mostly on the highway. You might say, "nothing for a hybrid". So how did it turn out?
It is exemplary in saving fuel
A long journey requires a high pace, and the HR-V has no problems with the highway limit. Of course, there is not much reserve left for acceleration. Finally, the maximum speed is limited to 170 km/h. In this mode, and in addition to the headwind, which took us through the whole of Hungary but also through the section through Bulgaria, the HR-V was able to "pull" almost seven liters of gasoline per 100 km. However, as soon as you suddenly slow down, for example at 120 km/h, the hybrid Honda becomes much more economical. You get about 6.5 liters per 100 km. HR-V's speed of 110 km/h proves even more. Then the "mixer" phases practically disappear. Even so, there is no doubt that you would probably save more on expressways with a diesel station wagon. But then the tables turn sharply.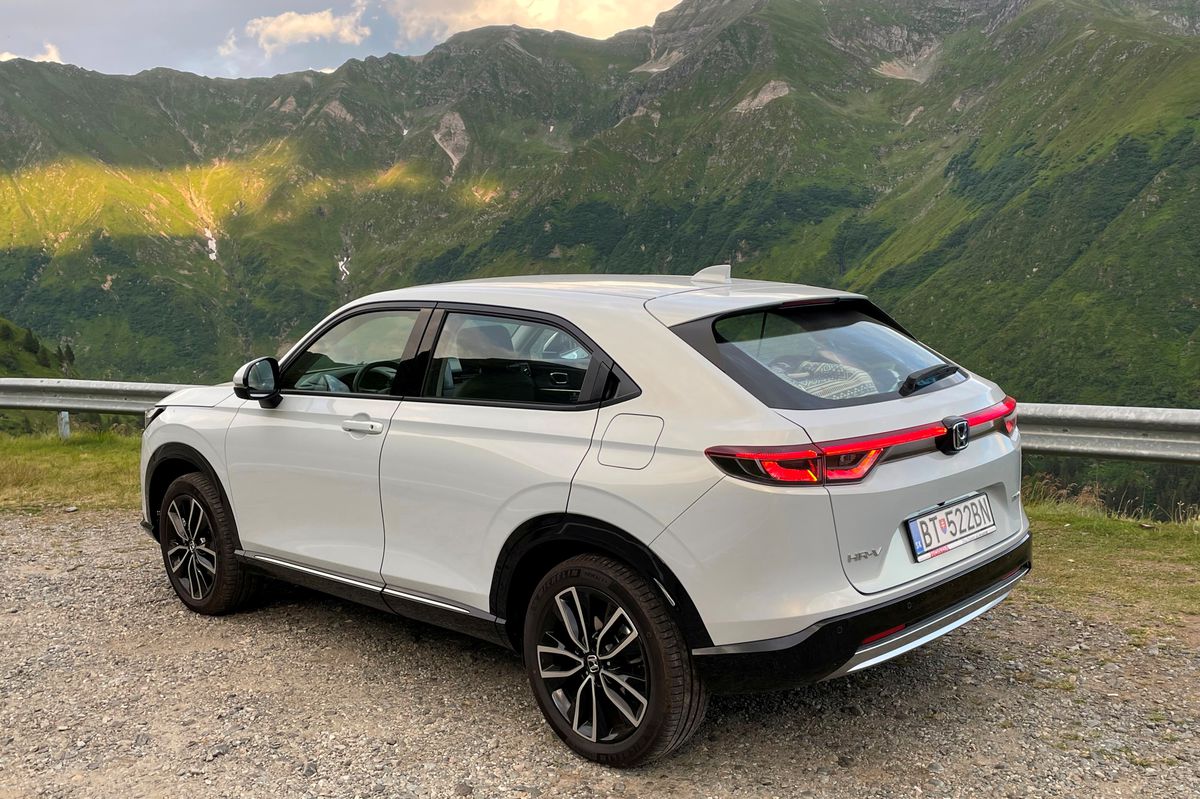 Photo: Tomáš Andrejčák
Honda HR-V – test Bulgaria 2021 Our Honda got the most trouble when crossing the Romanian Fagaraş mountain range. We climbed up to an altitude of 2,040 meters. Surprisingly, consumption was not higher on a long climb than on the highway.
Honda's hybrid system is able to reduce consumption to incredibly low values ​​in the districts and in the city, lower than you can imagine with diesels. So, for example, our daily drives in and around Sozopol ranged from 3.2 to 3.8 liters per 100 km. When used like this, the hybrid system is incredibly efficient. And you can stay on four liters even on longer journeys with a permitted speed limit of 90 km/h. It was also interesting when passing Fagaraš. When climbing to the highest point, the consumption on a stretch of about 50 km climbed to about seven liters per 100 km. But then we had an endless descent ahead of us. And here the HR-V showed its strength again. Not only did it complete the entire descent with the engine off, but it also recovered energy, much more efficiently than mild-hybrids.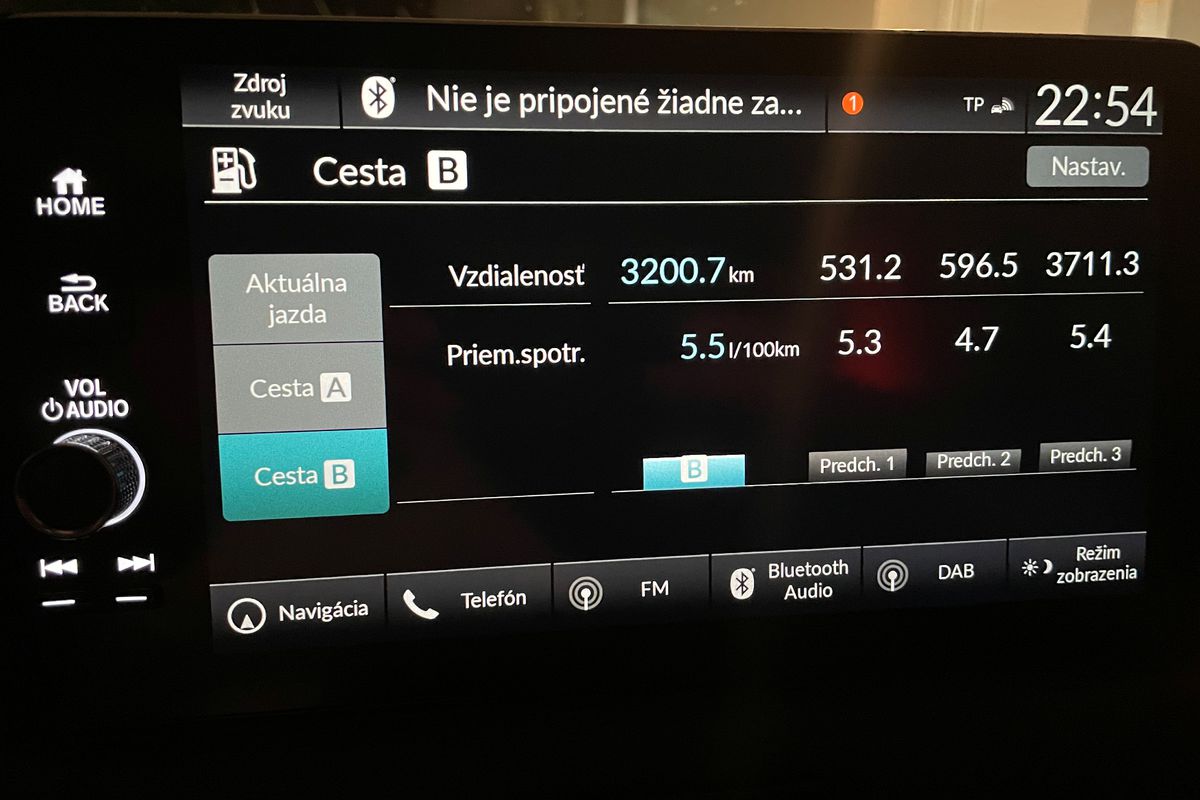 Photo: Tomáš Andrejčák
Honda HR-V – test Bulgaria 2021 This is the average consumption for 3,200 km. A very respectable 5.5 liters of gasoline per 100 km. Even the previous average consumption clearly shows that the hybrid drive can save.
So we arrived in the town of Sibiu from Transfagaraş with a consumption of 2.1 liters per 100 km (!) and that includes about a 30 km long section on county roads without significant descent or ascent. The result? After 3,200 km, we read an average of 5.5 liters per 100 km from the on-board computer. The consumption on the way back, while we were actually climbing from the sea, was even one deciliter lower. The other consumptions, recorded in the on-board computer for longer periods, ranged from 4.7 to 5.4 liters. So our consumption was actually one of the highest. the highest. What does this mean? It depends on your personal "mix". If the majority of the year's driving is on city and county roads, the hybrid HR-V will clearly be a great and economical choice. More economical than with diesel. But even a long trip to the sea won't ruin you with this hybrid. In the end, the average consumption will be only a few decades higher than if you chose a diesel model of a similar size.
Even "Simly Clever" fades
And the Honda HR-V also surprised with its comfort. Its chassis filters noise and bumps really well. And you have comfortable seats at your disposal. Even long hours behind the wheel will not tire you. The cabin is designed in a distinctly premium way. Although the HR-V is based on the smaller Jazz, it uses incomparably higher quality materials and more solid infotainment with a full-fledged instrument panel. You won't be bothered by too much digitization either, as Honda is once again pushing the trend of analog buttons where they should be. You adjust the climate control with rotary controls on a separate panel, and you also have the classic "gearbox" selector at hand. In addition to compact dimensions, it can also offer enormous space. Incomparable with the competing Toyota Yariss Cross. You don't miss out on the magical "Magic Seats" rear seats either.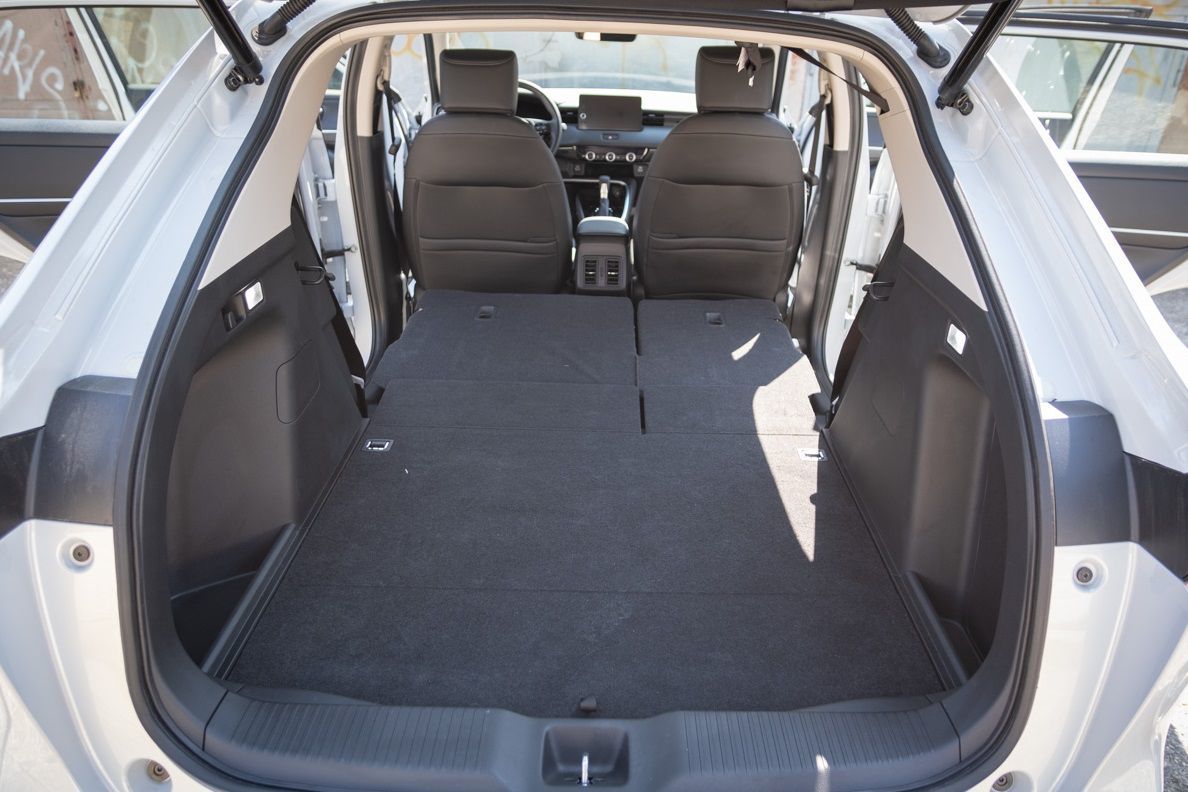 Photo: Ľuboš Pilc
Honda HRV – test 2022 Despite the batteries under the floor of the trunk, the Hoinda HR-V did not lose the ingenious Magic Seats rear seats. But compared to the previous generation, the trunk is still smaller.
These can either be folded out or folded down to the floor, so you get a horizontal bed surface and a trunk with a volume of 319 to 987 liters. And it could be even bigger, but the new hybrid generation had to "grab" a few liters for the batteries. But it doesn't matter, what can fit under the rear "seats" in the classic arrangement. In this respect, the HR-V can be an example for many competitors. Along the way, we've also come to appreciate the assistance systems that come with all versions. Regardless of the equipment level, the HR-V has lane keeping, adaptive cruise control, automatic switching of LED lights, blind spot monitoring or cross-traffic alert. Believe me, this is a huge advantage in the long run. This is how a modern compact crossover should look. It is comfortable, practical, universal, safe and very economical.
Read more Test: Honda HR-V e:HEV – conversion to a hybrid has its drawbacks
But you will pay for this quality. The price of our Advanced version rose to 31,590 euros. However, in addition to the complete safety package, you also get rich comfort equipment – dual-zone air conditioning, heated seats and steering wheel, keyless entry and start, infotainment with a 9-inch screen and navigation, a parking camera or electric trunk lid control, and actually an "automatic". Investing in a higher level of Style doesn't make much sense anymore. Perhaps only because of the more powerful Audi and the inductive charging of the phone. Unfortunately, as is customary with the Japanese, these elements cannot be ordered separately.
Dimensions, volumes, weight
| | |
| --- | --- |
| Length (mm) | 4 340 |
| Width (mm) | 1 866 |
| Height (mm) | 1 582 |
| Wheelbase (mm) | 2 610 |
| Ground clearance (mm) | 188 |
| Trunk volume (l) | 319 – 987 |
| Tank volume (l) | 40 |
| Curb weight (kg) | 1,452 (with driver 75 kg) |
Specifications
| Model | Honda HR-V 1,5 e:HEV Advanced |
| --- | --- |
| Number of cylinders/valves | 4/16 |
| Engine displacement (ccm) | 1 498 |
| Power of the combustion engine (kW/rev.) | 79/6 000 |
| Electric motor power (kW) | 96 |
| Internal combustion engine torque (Nm/rev) | 131/4 500 |
| Front electric motor torque (Nm) | 253 |
| System power (kW) | 96 |
| 0 – 100 km/h (s) | 10,7 |
| Maximum speed (km/h) | 170 |
| Standard consumption per 100 km (l) | 5,4 |
| Consumption during the test (l) | 5,7 |
Prices
| | |
| --- | --- |
| basic price | 28 490 € |
| The price of the tested version | 30 990 € |
| Price of the tested specimen | 31 598 € |