The electrification of Europe is extremely uneven. In Norway, electric cars account for up to 74% of new car sales, while in Greece it is only 1.52%. It is difficult to imagine how these differences will be balanced by 2035, when the ban on the sale of cars with internal combustion engines comes into force.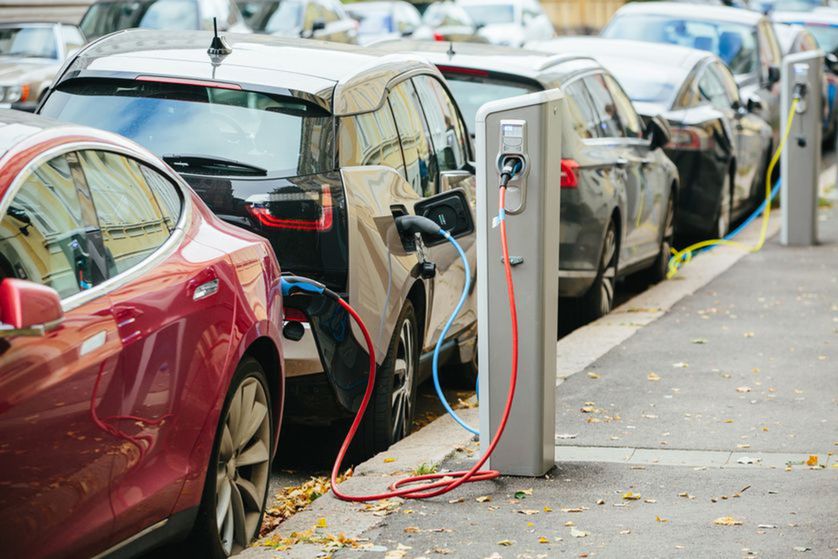 Photo: NEC
Norway – electric cars Europe is preparing for the transition to electric cars. While some countries could manage it even earlier than 2035, some will still have a long way to go.
Europe has already adopted an agreement to ban combustion engines from 2035. Of course, we still have a full 13 years to go, but not every European country is approaching emission-free transport at the same speed. The differences in the sale of battery electric cars are gigantic. This is also confirmed by the latest statistics of the JATO Dynamics agency, which published data for the third quarter of this year. It turns out that electric cars only thrive where a stronger economy is combined with government sales incentives to buy zero-emission cars. A good example is Norway, where the share of electric cars in new car registrations is an incredible 74.4% and this is constantly growing. Buying an electric car in Norway is already more profitable than buying a car with an internal combustion engine thanks to the support and, on the contrary, the taxation of classic cars.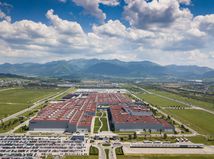 Read more Electric cars for Europe will be produced by Kia and Hyundai in Žilina
The second paradise of electric cars is Iceland with a 34.5 percent share, followed by Sweden, also with a share of over 30 percent. Strong demand can also be seen in Germany, Austria, Switzerland, France and Benelux. And also in Great Britain. Quite simply, these few countries cover more than two-thirds of the electric car market. But then there is the rest of Europe, and not a small one, which is hopelessly behind in electrification. In such countries as Italy, Spain, Portugal and also in the post-socialist countries of Central Europe, the share of electric cars is less than four percent! This also includes Slovakia. Of all new cars sold in the third quarter, only 1.8% were electric. Only Greece is worse with a share of 1.52%. JATO Dynamics sees weak incentives, insufficient charging infrastructure and fuel prices behind this.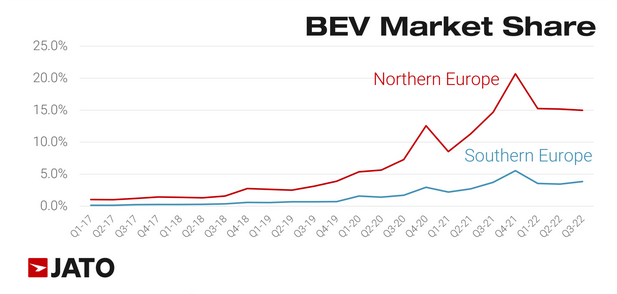 Photo: JATO
JATO – sales of electric cars in Europe The difference between northern and southern Europe in electrification is even increasing. That is not good.
What is worse is that in the markets with the smallest share of electric cars, the speed of sales of electric cars often even slows down. For example, in Latvia by 0.7%, in Greece by 0.39% and in Italy by 2.4%. However, large "electricity" markets also register a decline. A good example is Germany with a drop of up to 4.2% or Luxembourg with a drop of 2.47%. So it is hard to imagine that in 2035 all the countries of Europe, which have committed to prohibiting the sale of cars that fill with gasoline and diesel, will be ready for such a transition. While northern Europe already has an average share of electric cars of about 15%, southern Europe only has 3.8%. Rising inflation, which thins the wallets of residents, will certainly not contribute to the popularity of expensive electric cars.
Market share of electric cars by country
| Country | Q3-2021 | Q3-2022 | Difference |
| --- | --- | --- | --- |
| 1. Norway | 71,54 % | 74,40 % | 2,86 % |
| 2. Island | 30,26 % | 34,54 % | 4,28 % |
| 3. Sweden | 24,91 % | 30,13 % | 5,22 % |
| 4. The Netherlands | 18,91 % | 23,54 % | 4,63 % |
| 5. Denmark | 17,21 % | 20,49 % | 3,28 % |
| 6. Finland | 10,45 % | 20,05 % | 9,60 % |
| 7. Austria | 15,73 % | 17,53 % | 1,80 % |
| 8. Ireland | 9,41 % | 16,69 % | 7,28 % |
| 9. Switzerland | 14,60 % | 16,02 % | 1,43 % |
| 10. Great Britain | 12,60 % | 14,84 % | 2,25 % |
| 11. France | 10,25 % | 13,93 % | 3,74 % |
| 12. Portugal | 10,09 % | 11,88 % | 1,79 % |
| 13. Belgium | 7,60 % | 10,03 % | 2,43 % |
| 14. Germany | 13,95 % | 9,68 % | –4,27 % |
| 15. Romania | 2,56 % | 8,90 % | 6,34 % |
| 16. Luxembourg | 10,51 % | 8,04 % | –2,47 % |
| 17. Slovenia | 3,67 % | 5,20 % | 0,0153 |
| 18. Lithuania | 2,22 % | 4,73 % | 2,51 % |
| 19. Croatia | 3,15 % | 4,26 % | 1,10 % |
| 20. Latvia | 4,18 % | 4,10 % | –0,70 % |
| 21. Hungary | 3,60 % | 4,00 % | 0,39 % |
| 22. Italy | 5,95 % | 3,72 % | –2,47 % |
| 23. Spain | 2,93 % | 3,51 % | 0,58 % |
| 24. Cyprus | 0,79 % | 3,26 % | 2,48 % |
| 25. Poland | 1,52 % | 2,97 % | 1,44 % |
| 26. Czech Republic | 1,16 % | 2,13 % | 0,97 % |
| 27. Estonia | 1,86 % | 1,91 % | 0,05 % |
| 28. Slovakia | 1,40 % | 1,80 % | 0,39 % |
| 29. Greece | 1,92 % | 1,52 % | –0,39 % |
| 30. Serbia | 0,15 % | 0,08 % | –0,07 % |
How the share of electric cars in European countries is growing
| Country | Q3-2021 | Q3-2022 | Difference |
| --- | --- | --- | --- |
| 1. Finland | 10,45 % | 20,05 % | + 9,6 % |
| 2. Ireland | 9,41 % | 16,69 % | + 7,28 % |
| 3. Romania | 2,56 % | 8,90 % | + 6,34 % |
| 4. Sweden | 24,91 % | 30,13 % | + 5,22 % |
| 5. The Netherlands | 18,91 % | 23,54 % | + 4,63 % |
| 6. Island | 30,26 % | 34,54 % | + 4,28 % |
| 7. France | 10,25 % | 13,93 % | + 3,74 % |
| 8. Denmark | 17,21 % | 20,49 % | + 3,28 % |
| 9. Norway | 71,54 % | 74,40 % | + 2,86 % |
| 10. Lithuania | 2,22 % | 4,73 % | + 2,51 % |
| 11. Cyprus | 0,79 % | 3,26 % | + 2,48 % |
| 12. Belgium | 7,60 % | 10,03 % | + 2,43 % |
| 13. Great Britain | 12,60 % | 14,84 % | + 2,25 % |
| 14. Austria | 15,73 % | 17,53 % | 1,80 % |
| 15. Portugal | 10,09 % | 11,88 % | + 1,79 % |
| 16. Slovenia | 3,67 % | 5,20 % | + 1,53 % |
| 17. Poland | 1,52 % | 2,97 % | + 1,44 % |
| 18. Switzerland | 14,60 % | 16,02 % | + 1,43 % |
| 19. Croatia | 3,15 % | 4,26 % | + 1,10 % |
| 20. Czech Republic | 1,16 % | 2,13 % | + 0,97 % |
| 21. Spain | 2,93 % | 3,51 % | + 0,58 % |
| 22. Hungary | 3,60 % | 4,00 % | + 0,39 % |
| 23. Slovakia | 1,4 % | 1,8 % | + 0,39 % |
| 24. Estonia | 1,86 % | 1,91 % | + 0,05 % |
| 25. Serbia | 0,15 % | 0,08 % | – 0,07 % |
| 26. Latvia | 4,18 % | 4,10 % | – 0,7 % |
| 27. Greece | 1,92 % | 1,52 % | – 0,39 % |
| 28. Italy | 5,95 % | 3,72 % | – 2,47 % |
| 29. Luxembourg | 10,51 % | 8,04 % | – 2,47 |
| 30. Germany | 13,95 % | 9,68 % | – 4,27 % |