Perhaps every person with low-quality vision wishes to be able to see well without any problems or limitations.
And most of those whose vision worsened with age often find it quite difficult to get used to glasses or contact lenses. It can be the right solution laser eye surgery. But is it profitable to invest in it?
In the article you will read:
• What visual defects and diseases can be solved by laser surgery?

• What are the pros and cons of surgery compared to wearing glasses or lenses?

• When is it appropriate to undergo laser eye surgery?
Laser operation methods
Eye surgeries using laser technology have been performed for decades. There are already many private eye clinics in Slovakia, you just have to choose. The eye clinic iClinic has been operating on the Slovak market for 15 years and during its existence operated several tens of thousands of patients and invested several million euros in the technological equipment of its branches. Its goal is to provide patients with high-quality medical staff and the most modern equipment, thanks to which it can offer different types of surgical methods for different diagnoses. Thanks to these top laser devices, operations are now very fast, painless, with minimal risks and a short recovery period.
Currently, there are various operating methods. The doctor decides which method is most suitable for the patient. He will do so based on the evaluation of the results of a comprehensive preoperative vision examination, thanks to which he can also identify another vision problem, or uncover some other hidden diseases that the patient may not have known about at all.
An example can be a situation where a patient comes to an eye clinic wanting to get rid of nearsightedness. However, during the examination, the doctor may find, for example, that the patient's lens is starting to cloud, which means that he is starting to develop cataracts. Then he will recommend, for example, an operation method called PRELEX, which, in addition to myopia, simultaneously solves cataracts. If he uses a trifocal lens, the patient can even ensure high-quality vision at all distances – far, near, and medium distance (e.g. working with a computer, etc.).
Types of operative methods for individual diagnoses:
• Myopia – CLEAR (world innovation), ReLEx SMILE 3D; Z-Lasik; Z-Lasik Premium

• Farsightedness – PRELEX, Z-Lasik, Z-Lasik Premium

• Presbyopia – FEMTO Z-Prelex, PRELEX
Cataract – FEMTO Z-Cataract; FEMTO Z-Prelex

• Astigmatism – CLEAR (world innovation), ReLEx SMILE 3D, Z-Lasik Z 3D; Z-Lasik Premium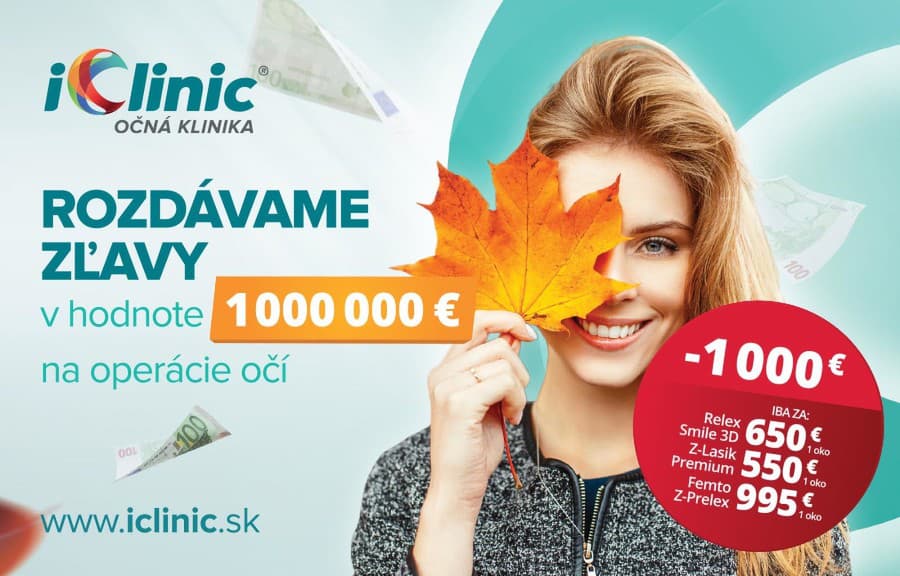 Open the gallery
You will recognize the benefits of laser eye surgery very quickly after the procedure
If we were to highlight the most significant advantages of laser surgery compared to wearing contact lenses or prescription glasses, they would be the following:
✓ Permanent vision correction – laser surgery removes the visual defect, while lenses or glasses only correct it.
✓ Can solve multiple eye defects at once – for example, by applying an artificial multifocal or trifocal lens, which is replaced with your original lens, it is possible to solve all your dioptric errors at once (whether it is worse vision in the distance, near, or even in the middle distance), as well as eliminate the risk formation of cataracts.
✓ Incomparable comfort in your daily activities, whether at work, at home, or during sports. Wearing glasses is quite impractical, people often forget them somewhere or damage them. For some activities or types of sports, they are not even suitable at all. Contact lenses are more practical in this case, but they also have certain limitations. After completing the operation, you can usually do all or most of the activities without any restrictions for a short time after the procedure.
✓ One-time investment without any additional costs. At first glance, the price may seem high to some, but in the long run, this investment will not only return to you, but also pay off. You will often pay hundreds of euros for high-quality spectacle frames and glasses, and it is very likely that they will not last you a lifetime. It also often happens that you damage your glasses while wearing them, or they simply wear out, or you lose them. Over time, your diopter number can also change, so you have to change your glasses, and that's not a cheap thing either. When it comes to contact lenses, at first glance they may seem like a cheaper option in comparison. However, since you have to keep buying them throughout your life, in the end, laser surgery is the most worthwhile in the long run. In addition, it is more the rule than the exception that a person after the age of 40 starts to need reading glasses. In the savings calculator you can calculate the approximate amount of annual costs for prescription glasses or contact lenses. You might be surprised how much you save over the course of your life when you solve your vision problems with the right laser surgery.
✓ Installment financing – you don't have to worry about the price for eye surgery. The iClinic eye clinic offers its clients payment for the procedure also in installments. Thanks to the fact that you spread the financing over time into several installments, you avoid a one-time expense.