He is not completely done with football! Although his deteriorating health forced him out of Spartak Trnava, he still wants to put on his football boots. But not regularly anymore. Martin Škrtel (37) knows that words make a man, and that's why he's fulfilling promises from the past at the end of his career. After a stop in Slovakian Rome, he went on loan to Ráztočn in the Prievidza district, which is in the 8th league and where he played until he was ten years old.
The legendary defender, who played in Zenit St. Petersburg, the famous Liverpool FC, and Istanbul clubs, did not forget his hometown with about 1,200 inhabitants. Now he has come full circle when he announces his return home – to the FK Hajskala Ráztočno team, a participant in the 8th league of the Prievidza Regional Football Association. Martin's long-term dream was to play with the boys from his childhood and experience the atmosphere of village football with beer and sausage.
This can be fulfilled at the amateur level after the end of his professional career. Under the leadership of Roman Škrtel, a coach and cousin in one person. "We are happy to have him here. I can't say whether for one match, half a season or the whole season. It depends on his health and whether he will enjoy it. When I saw the problems he had in Trnava just walking normally, I stopped believing that he would one day wear the Ráztočn jersey. It's great to have him with us." a former player of Slovan Bratislava told Nový Čas.
Martin has already completed two training sessions. They have not yet discussed the position he will take up. Will Roman's younger cousin-ward obey? "We have one huge advantage, that in addition to him, there are more players in the squad who worked at a higher level, such as Michal Stano, Ján Kečkeš or Tonko Kováčik. They are all experienced guys who don't even need a coach. You just have to come to an agreement with them and it will work."
The competition kicks off with today's match on the Bojníc field. Škrtel, the most experienced football player, has yet to touch him. But in the middle of the month, FK Hajskala hosts neighboring Chrenovec at home, and it is in the derby that Martin can make his debut. The cozy stadium should be bursting at the seams. "I can't believe that there will be 600-700 fans there. I wish they would come. The grandstand is small, only for 150 people, but there is enough standing space around the pitch. We have to prepare to handle it organizationally," the mayor of the village, Ivan Škrteľ, told us.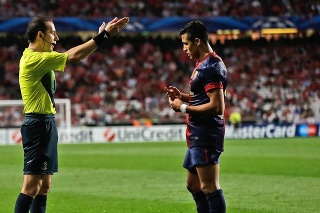 Mayor of the village: Martin is a heartthrob
The footballer's uncle Ivan revealed that Martin is not coming to Ráztočn for just one exhibition match, as he originally intended. True, everything will depend on his health. "He means it quite seriously. The plans are big. He's a heartthrob. He told me that he would only like to play in home games. I warned him that our bumpy pitch would give him more problems at the plate than major league pitches. In training, I teased him whether he would play in the attack, which he flatly refused. He wants to remain loyal to the position of defender. It's enough if he goes to 20-30 percent and people still applaud him. Everyone is already looking forward to it."