They haven't received help yet! The gastro sector has been bleeding since the beginning of the pandemic, and the current inflation and energy prices are bringing it to its knees even more. The Minister of Finance recently came up with the idea that under certain circumstances customers would receive 20% back for visiting a restaurant.
However, the opposition led by SaS claims that the reduction of VAT to 10% would help this sector much more. What do hard-pressed entrepreneurs think about both proposals and what do they say to the government?!

Scanning pads is complicated

Peter Franko (66), business Koridor, Košice


I find the idea of ​​restarting gastro by having people scan their pads and get a certain amount for it too complicated. By design, it should attract customers, which would probably help. However, this will not help us significantly and will again create an unnecessary apparatus, which will cost taxpayers something. However, what would definitely help is a reduction in VAT, that would have an immediate result and would be an immediate help for the gastrosector.
The proposals are absolutely inadequate

Tibor Horváth (45), Peter Kuniček (46), restaurant Fiesta, Komárno


The blocks will not help us at all, the VAT reduction is a cosmetic treatment. Energy prices are destroying us, while we used to pay 2,700 euros a month, this month it was already 8,500 euros. We cannot increase the prices of food, especially the menu, indefinitely, because people cannot pay for it. We are realistically in a position to close from January, so such proposals are absolutely insufficient for us.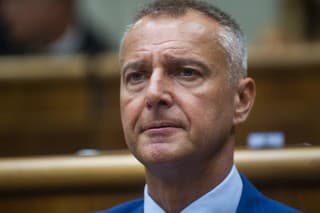 Matovič is laughing at us

Andrej Gogola (44), Štefánka restaurant, Bratislava-Staré Mesto
The VAT reduction has been talked about for years. Of course, it would help a lot, since the situation is really difficult. However, I don't have much faith that it will succeed. I consider the fact that the VAT was reduced for lift trucks a huge mockery. When I found out, I almost dropped out. I don't know what the finance minister has against us, but when he publicly calls us thieves, it certainly doesn't help us. As for his proposal, I have no idea what good it would do. People who want to come to the restaurant will come and not wait for some refund.