On Wednesday night, near the town of Makijivka, the Ukrainian army clashed with Russian conscripts from the Voronezh region. They found themselves under artillery fire without any command, almost no one from their battalion survived.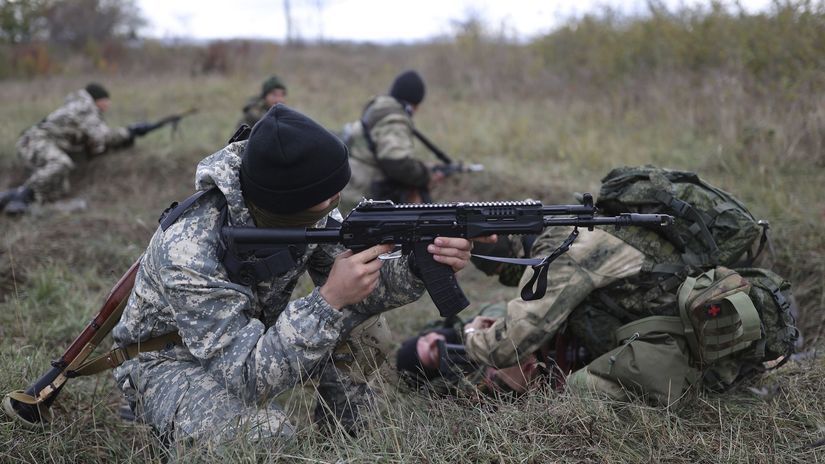 Photo:

SITA/PA
Recruits during military training at a shooting range in Krasnodar region, southern Russia, on October 21, 2022

It was reported by the local media, which refers to one of the survivors, soldier Alexey Agafonov. According to him, the number of victims could exceed 500, the news server reported idnes.cz.
Agafonov according to the server layout he stated that there were 570 men in his battalion, of whom only 29 survived the heavy shelling. Another 12 were wounded. The survivor's wife said that "of course more than half are dead." Ľudmila Černychová, the wife of another soldier, spoke about the shelling, but did not state the number of dead.
The Kyiv Independent server reported that the unit was supposed to stay only 15 kilometers from the front line, according to the media. However, on the night of November 2, conscripts without proper equipment were ordered to move directly to the contact line and hold defensive positions. "We dug in as best we could, but in the morning the artillery started shooting at us. When it all started, the commanders immediately fled. During the shelling, we tried to dig in, but we were immediately identified by helicopters," the surviving conscript was quoted as saying by the media.
Agafonov also added that at least one other Russian battalion of mobilized conscripts had previously been destroyed in the same positions, referring to the dozens of corpses he had previously seen at the site. Agafonov characterized the situation on the battlefield as "disorder and complete confusion." According to him, the Russian conscripts do not want to fight here, but it is necessary to fill the gaps on the front.
"They show on TV that everything is beautiful, but in reality mobilized soldiers are thrown to the front here (in the Luhansk region). We don't see any officers here, only volunteers and contract soldiers," he said. "There is complete confusion and disorder here. All the survivors and new arrivals will be grouped into new battalions and thrown into the front line," says a surviving conscript.