Taiwan fired flares late Friday to warn of seven drones circling over its Jinmen archipelago and an unidentified aircraft over the remote Macu archipelago. This was announced by the Taiwanese Ministry of Defense according to Reuters.
Troops in both areas, which lie just off the coast of mainland China, are now on alert. The situation around Taiwan escalated after China on Thursday, in response to US House Speaker Nancy Pelosi's visit to Taiwan, began its largest-ever live-fire military exercise in the region around the island, cutting the middle line of the Taiwan Strait several times, and with both ships and battleships by aircraft.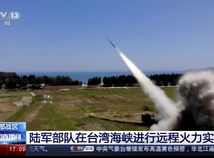 Read more China will flex its muscles near Taiwan. Is the Ukrainian scenario threatening?
China also announced on Friday that it would stop cooperating with the US in key areas, including maritime security, climate, immigration policy or military communications, in response to Pelosi's visit.
Pelosi is the highest-ranking American politician to visit Taiwan in the past 25 years. China protests against this, as it sees such a high-level visit as a symbol of Taiwan's independence. China has previously warned that if Taiwan tries to declare independence, it will not hesitate to use military force to bring it under its full control.