As expected, Russian parliamentarians on Thursday approved a tightening of the ban on the so-called promotion of homosexuality. Violation of the prohibitions is subject to heavy fines.
The State Duma, the lower house of the Russian parliament, adopted in its third reading an amendment that prohibits the promotion of "non-traditional sexual relations" and pedophilia, but also the dissemination of information about sexual minorities (LGBT) in the media, on the Internet, in advertising, in books and in films.
It is also prohibited to disseminate information that could arouse interest in changing gender among adolescents. The screening of films containing "materials promoting non-traditional sexual relationships and preferences" should be prohibited.
Russian senators still have to agree to the wording of the law, and the signature of the head of state is also required. However, it is usually just a formality. In Russia, the law had previously prohibited the promotion of homosexuality among minors. Another law prohibits marriage between same-sex couples and the adoption of children by same-sex couples.
Defender of "Traditional Morality"
The regime of Russian President Vladimir Putin, which launched a war against Ukraine 274 days ago, is positioning itself as the defender of "traditional morality" and family values ​​against what pro-Kremlin propagandists and government politicians describe as decadence, subversion and "Satanism" coming from the West.
Last year, when Russia was still a member of the Council of Europe, it refused to comply with the decision of the European Court of Human Rights on the registration of same-sex unions, on the grounds that such a move would contradict the Russian constitution. "They impose 'values' that are foreign to us. We will not implement a decision that contradicts the constitution," Duma Chairman Vyacheslav Volodin declared at the time.
A provision was added to the Russian constitution in the last year's amendment at Putin's suggestion imposing the obligation to protect "the institution of marriage as a union between a man and a woman."
Homosexuality was a criminal offense in Russia until 1993, until 1999 it was classified as a mental illness. Since 2013, the country has banned the "propagation of non-traditional ways of life among minors" and under this law any act that the authorities recognize as promoting homosexuality can be fined. Moscow used the ban to detain activists for the rights of sexual minorities or to disrupt so-called pride marches.
In addition to this ban, sexual minorities also face other difficulties – in some parts of Russia, for example in the predominantly Muslim Caucasus, even with open persecution and violence.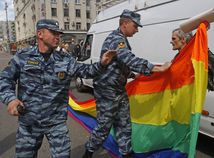 Read more Russian parliament tightens measures against homosexuality