The Ukrainian army launched a counterattack near Bakhmut, which had been persistently attacked by Russian forces in recent months. The Ukrainian General Staff informed about it. Sources of The Washington Post say that members of Wagner's group were forced to retreat in this Donbas city. The founder of this mercenary company, Yevgeny Prigozhin, criticized the mistakes of Russian army commanders in Ukraine in a personal conversation with Russian President Vladimir Putin. Prigozhin has increasingly strained relations with Russian Defense Minister Sergei Shoigu, according to information from American intelligence services, which the newspaper refers to.
"The Armed Forces of Ukraine do not give up attempts to take offensive actions in the direction of Bakhmut and Avdijivka," the Ukrainian General Staff said in its regular evening briefing without further details.
According to unconfirmed information on social networks, in the last 48 hours, Ukrainian forces liberated the compound of the concrete plant in the eastern part of the city and pushed the Russians back two kilometers.
VIDEO: Rain of death. The US delivered a new weapon to the Ukrainians
Bakhmut was until now the last place in Ukraine where Russian forces were still trying to advance. The battle for the city in the Donetsk region is one of the longest in the war in Ukraine to date, Russian and Ukrainian forces have been fighting for it for more than two months.
The Washington Post also reported that the Ukrainian army's counteroffensive is also continuing in the Luhansk region, where it has reached a key road connecting the cities of Svatove and Kreminna. It also maintains progress in the Kherson region in the south of Ukraine.
VIDEO: Ukrainian generals, whom the Russians fear
According to Ukrainian military intelligence, about 8,000 mercenaries from Wagner's group are fighting in Ukraine. Most of them are recruited convicts, according to intelligence.
According to an unnamed source of the American newspaper, Prigozhin criticized that the Russian Ministry of Defense imposes too many duties on the Wagnerites, but does not allocate enough financial and material resources for the group to fulfill these tasks. However, in a statement to the Washington Post, Prigozhin denied that he had spoken with Putin, and that he had criticized the course of the fighting in Ukraine.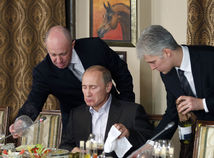 Read more "Putin's cook" Prigozhin admitted that he founded Wagner's group
The newspaper's source also said Prigozhin appeared to be behind a video previously circulated on social media in which the group's mercenaries complained about a lack of food and ammunition. The aim of this video was apparently to force the Kremlin to allocate more resources to the group's fighters.
Only in September did billionaire Prigozhin admit his connection to Wagner's group and the fact that he founded it in 2014.