The leaders of the Russian mercenaries known as the Wagner group have as much political influence in the Kremlin as Foreign Minister Sergei Lavrov and Defense Minister Sergei Shoigu. Former Russian oil tycoon and political prisoner Mikhail Khodorkovsky said this during a hearing in the Foreign Affairs Committee of the British Parliament. TASR reports according to the British newspaper Guardian.
According to Khodorkovsky, businessman Yevgeny Prigozhin had the same approach to President Putin as formal government officials. Prigozhin confirmed in September 2022 that he founded and finances Wagner's group. He was also behind the recent appointment of General Sergej Surovikin to head the military operation in Ukraine.
The Wagnerites are growing in popularity in Russia because they can function as an alternative to wider mobilization, Khodorkovsky said. They currently have around 7,000 militants and often recruit people from prisons. If military operations in Ukraine fail, they are not directly responsible.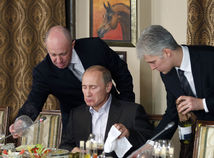 Read more "Putin's cook" Prigozhin admitted that he founded Wagner's group
"They are involved in terrorism and killing," Khodorkovsky said, adding that it allowed Putin to deny responsibility and pursue an illegal foreign policy. He added that the UK and other countries had been slow to react and failed to ban the group despite its clear "terrorist" activity in Africa.
About 700,000 people left Russia after the mobilization was announced, which represents "a serious blow to Putin's defense industry and to Russia's economy," Khodorkovsky said. He sees it as a potentially more significant blow to the Russian economy than the usual sanctions imposed by the West.
"These people are the most active and educated people with some financial means, including 30,000 Russian programmers based mainly in Cyprus. It significantly affected Russia's ability to conduct cyber warfare," Khodorkovsky added.