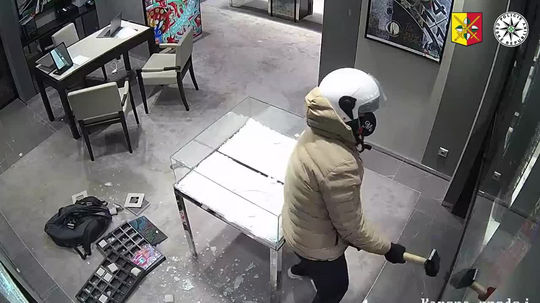 It was busy on Saturday evening in the center of Prague on Široká Street. The three men with hammers were not afraid of manual work: the men broke the display cases with luxury watches. Then they jumped on a scooter and scooter and disappeared.
VIDEO: See how three men robbed luxury watches. Working with a hammer was no stranger to them.
Shortly after 5 pm on Saturday, January 15, three foreigners broke into a luxury goods store in the center of Prague.
The men first disarmed the police officer, then hammered into the shop windows. However, they were not used on the nail, but on the display cases.
They took a watch for several million Czech crowns. After a quick job, they jumped on a scooter and an electric scooter, which criminalists found a few blocks away.
The robbers were obviously in a hurry, leaving one hammer in the shop.
Police ask for help: Anyone who knows any of the men should report it. They have committed the crime of robbery, for which they can serve ten years. Due to the high damage, the penalty can eventually be higher and can climb to 15 years.
.