A year ago, the Slovak Road Administration claimed that it would start construction of the Prievidze bypass in 2022. Now it claims that it does not have the money for it.
Photo:

TASR/Dano Veselský
At the beginning of 2018, the mayor of Prievidza, Katarína Macháčková, submitted a petition to the office of the Government Office for the immediate completion of the Prievidza bypass. It didn't help.

Almost exactly a year ago, we wrote that the Slovak Road Administration (SSC) wants to start construction of a part of the Prievidze bypass already in 2022. It estimated the cost of continuing the construction of its 1st stage at 30.1 million euros. The bypass was to be financed from European Union funds, which means that it should be completed by the end of 2023, following the end of the program period.
In February, we wrote less optimistically that it is no longer so 100% certain, because part of the Prievidze bypass did not yet have a valid building permit, and the announcement of a public tender for a contractor depends on its granting. This was confirmed by Martin Guzi from the communications department of the Slovak Road Administration (SSC).
Not much has changed since then, and part of the first stage of the Prievidze bypass has not yet been issued with a building permit. The problem is also the second stage, for which the Slovak Road Administration (SSC) needs to ensure an update of the feasibility study. The opinion, in which he identified fundamental errors in the study, which require its revision, was published by the Value for Money Unit back in November 2020. It was brought to the attention of the Prievdz municipality, according to which the state's inaction is holding back the preparation of construction.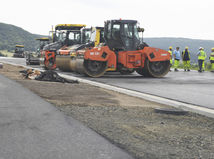 Read more Prievidze Bypass: construction permit is pending, the competition for it will not be announced sooner
SSC spokesman Martin Guzi said that the SSC will update the study with regard to capacity and financial possibilities in the course of the next year. "The study will then be submitted for evaluation by the Value for Money Unit, which will assess the justification for building the second stage of the bypass. We will continue according to the established schedule so that the complete bypass is handed over for use as soon as possible," added Guzi.
Mayor Katarína Macháčková claims that there is communication between the ministry and the SSC, in which they say that they do not have the money for this and are postponing the solution. "We are very dissatisfied, that's why I asked in a letter to Minister Andrej Doležal for a personal meeting and discussion of this topic," she pointed out, adding that the construction of the first stage of the second bypass construction is also being postponed due to problems. Specifically, it involves obtaining approval for network relocations, felling of trees and updating documentation.