A quiet Sunday morning on Strieborn Square in Banská Bystrica, and there was only one drunk who couldn't stay on his feet. While walking, he fumbled and personal items fell out of his hand. But what didn't he think of? Get in the car and drive.
VIDEO: Watch the video where the man first rolled on the ground and then got behind the wheel
At a time when Slovakia is still processing the tragic events on Zochová street in Bratislava, or the accident involving a drunk driver in Čadec, a man who was struggling had no qualms about getting behind the wheel and driving. At the same time, he could barely stand on his feet. Fortunately, his ride, or more precisely, his attempt to ride, only resulted in material damage.
"According to the information obtained so far, the 21-year-old driver hit a parking meter and a traffic sign while backing up, and then went to Horná Strieborná street, from where he started reversing the vehicle back to the parking lot. Here, too, he crashed into a parked Mercedes-Benz," the police said on the social network
Subsequently, the driver reparked his vehicle in another parking space, where it remained standing. While documenting the traffic accident, the man was subjected to a breath test for alcohol, while the measured value was 2.38 per mille of alcohol in his blood.
Find out who was driving the car below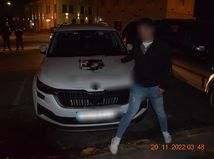 Read more The height of arrogance in the club car. The son of Róbert Ľupták blew over two per thousand