She was made visible by a TV show in which she showed her confectionary art. Katarína Novotová (39) invited us to Cífer, where she lives with her partner Andrej and three children. She showed us how she lives, where she creates her culinary specialties and how she likes to relax.
He has lived with his family in a village near Trnava for over seven years. The family house has five rooms and its kingdom is, of course, the kitchen. "I spend the vast majority of my time in it, as I am a mother of three children and there are five of us at home, so something is always being cooked and baked here," says the flamboyant confectioner. When they bought the house, the kitchen was already in it. "So it's not exactly what I wanted, but we live with what we have. I have to admit that it is already small for me, but I can't solve it at the moment.'
A table full of goodies
At Katka's you will always find some goodies on the table. "Salty, sweet, I always bake something. Even now I have the corpuses ready, because my younger son has a birthday, so I'm preparing a tiered cake. "Confectionery" is a huge hobby of mine and I dabble in it every day."
Where does she store all the baked goodies when she also makes cakes and tarts to order? "Because the kitchen is not big, we still have a study, which was originally supposed to be the partner's, but I had to put another refrigerator there. I have another tiny space under the stairs where I keep everything organized and it's like a puzzle. When I open the door there and take something out, something always falls out", he laughs.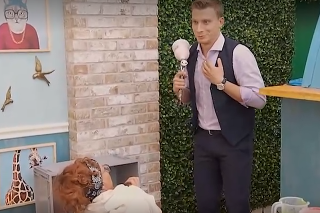 If she were to build her own house, it would have twice the size of the kitchen. "In terms of design, I would go for earthy, clean colors, beige and gray in combination with white. Smudges, debris and other imperfections should not be visible on the worktop, and I would definitely like an island. I could expand there more and since I also make such short videos with recipes for the social network, it would definitely help me. So I have an idea and I hope that my dream will come true."
Katka showed us every corner of their cozy house. She also boasted of a beautiful memory of her grandmother, which she cannot allow. Behind the house, Katka has a terrace where she and her family like to relax. In the bedroom, the confectioner hides a small secret, and in the garden, the husband and wife have a memory of a quarrel that resulted in a compromise. You can read more about Katka and the house where she lives with her family in Nové Čas Víkend.