"I see the award of the Council of Merit as a huge honor. I was touched by it, I appreciate it immensely. For many years, I have supported Ukraine in its rapprochement with the European Union," says Katarína Mathernová, Deputy Director General for Neighborhood Relations and Enlargement of the European Commission, in an interview for Pravda. The highest-ranking Slovakian woman in the European Commission was awarded this state award by President Volodymyr Zelensky, who personally presented it to her in Kyiv.
When did you first meet Zelensky and what impression did he leave?
I met him for the first time in May 2019 in Kyiv. I was a guest at his inauguration as president. Zelenskyy impressed as a charismatic politician who knew very well what Ukraine needed to do to be successful. The first impression was confirmed when Zelenskyi subsequently arrived in Brussels for his first official foreign visit since his election as head of state.
Can it be said that Zelenskyi is the best Ukrainian president since the declaration of state independence in 1991?
We should not forget the achievements of his predecessor at the head of the state, Petr Poroshenko. These two leaders have become significantly different compared to those who were in power before them. I believe that the clearly democratic and pro-Western Ukraine dates back to 2014, specifically February 2014, when Euromaidan – the series of mass demonstrations that led to the fall of the then pro-Russian president Viktor Yanukovych – won in Kyiv, and after these events he became the new leader Poroshenko. Of course, he also made many mistakes, but is there anyone in politics anywhere in the world who avoids them? Before 2014, there were various efforts in Ukraine to follow a pro-Western compass, but they were relatively short-lived. Including the Orange Revolution at the turn of 2004-2005, which was associated with Viktor Yushchenko and Yulia Tymoshenko.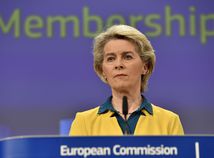 Read more Mathernova: Ukraine has a huge motivation to join the Union
You are talking about Poroshenko. What do you think about Zelensky?
I first considered it necessary to point out that since Ukraine has been firmly and continuously following its European path. I particularly appreciate Zelensky for how bravely he behaved after the Russian invasion on February 24 of this year and how he continues to behave in the same way. He is fearless and passionate about the victory of Ukraine. He grew up to be an exceptional leader.
Let's move on to your award. What did you do to deserve it?
I see the award of the Council of Merit as a huge honor. I was touched by it, I appreciate it immensely. For many years I have supported Ukraine in its rapprochement with the European Union. I am very glad that Mr. Zelenskyj thanked me in this way.
How many years have you been dealing with Ukraine in Brussels?
Roughly seven years in my main official job position. At the same time, for the last two and a half years, I have been the head of the support group for Ukraine, that is, basically the main person in the European Commission, which is dedicated to help for Ukraine and various forms of assistance. Everything that is done in Brussels for Ukraine goes through this team, which I head. I am glad that many things managed to move forward also thanks to me.
Did you only have a polite debate with Zelensky in Kyiv or did you deal with serious topics?
It was an important visit. The delegation from Brussels was led by European Commissioner for Trade Valdis Dombrovskis, who is also the Vice-President of the European Commission. The very substantive discussion lasted approximately one hour. We talked about financial support for Ukraine next year in the amount of 18 billion euros. This package of money, which was proposed by the European Commission, was already approved by the European Parliament a few days after our trip to Kyiv, and the consent of all EU member states is still needed. In particular, Zelenskyy spoke about what Ukraine needs to rebuild its energy infrastructure, which continues to be destroyed by the insane Russian shelling.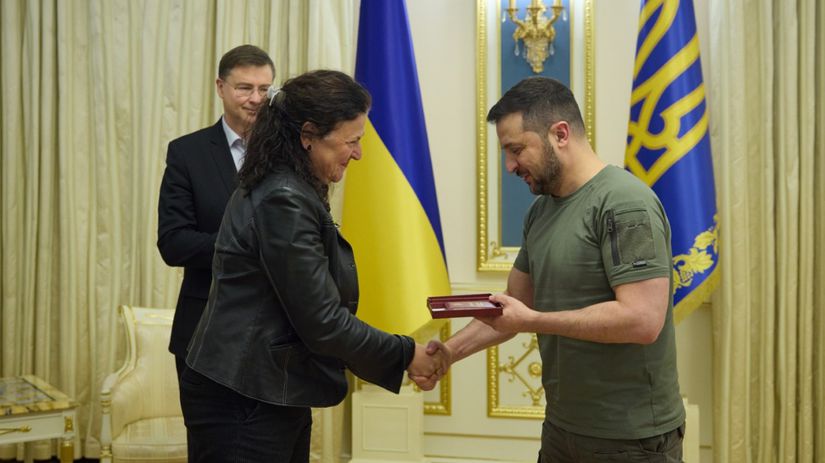 Photo: FACEBOOK/KATARÍNA MATHERNOVÁ
Katarína Mathernova with Zelensky Katarína Mathernová with the Ukrainian state award awarded to her by Volodymyr Zelenskyi.
Was he specific about anything?
Russian missiles, which the Ukrainian air defenses fail to shoot down, hit the electrical transmission system, seriously disrupting the supply of energy and at the same time forcing the Ukrainians to significantly limit its consumption. Zelenskyj emphasized that it would be very helpful if Ukrainian households could replace old types of light bulbs, which consume a lot of electricity, with modern, energy-saving ones – such as are also used in Slovakia: LED light bulbs, which not only have a longer life compared to classic ones, but also light they are much more energy efficient. In this regard, the Ukrainian president addressed our delegation with a request for support.
Did you also touch on EU anti-Russian sanctions in the interview?
Yes. The Ukrainian president pointed out that it would be appropriate if the member states of the union approved another sanctions package. He also raised the issue of confiscation of assets held abroad by the Russian National Bank. They are blocked, but not confiscated, which they would very much like in Kyiv. Zelensky pleasantly surprised us with his efforts to help others, despite the fact that Ukraine is now a war-torn country.
What is it about?
He informed us about his initiative to send several ships with grain from Ukrainian ports to some of the poorest countries in the world. It is related to the anniversary of the famine in Ukraine during Stalin's rule, whose victims Ukrainians commemorate every year on November 26, which now fell on this Saturday. In this connection, Zelensky asked for donor assistance so that Ukrainian ships could transport grain.
When the war finally ends, do you think that enough funds will be found abroad to rebuild the damaged Ukraine?
I believe so, I'm just afraid of what else the Russian army can destroy. How much more terrible force can he use against Ukraine?! Of course, I believe that the worst scenario will not occur, so that Ukrainians will have to recover from the consequences of the war for several more decades.
Let's come back to February 24 this year. What did you think when you heard about the Russian invasion of Ukraine? And what about the others in Brussels?
Understandably, we were all horrified that the Kremlin had given the order to attack a neighboring democratic state in complete violation of international law, which it had violated in a heinous manner. However, we were not surprised.
Why?
In our team, we took very seriously the warnings issued by the USA and Britain for a long time. Their signals were not secret, they informed the whole world that the Russians would probably attack. We therefore decided to act in advance – we adjusted the aid programs for Ukraine so that we were ready to react immediately in the event of an invasion.
Military planners in Moscow and, of course, President Vladimir Putin himself no doubt thought that the fall of Kyiv would be a matter of maybe two weeks after February 24, but they miscalculated. Were some officials in Brussels worried that it would be a blitzkrieg?
Everyone kept their fingers crossed for Ukraine, but there were also those who expected its quick defeat. However, Ukrainians are a very defiant nation, which was shown in the strongest possible form after the Russian invasion.
By the way, a year ago you were also praised by the President of Moldova, Maia Sanduová. Is it common for euro officials to receive state honors?
It doesn't happen often at all, it's not common. I appreciate it all the more that in December 2021 I received such an honor from Mrs. Sanduová and now from Mr. Zelenský. Award I received the Order of Honor in Chisinau for the European Commission's extraordinary assistance to Moldova, when I managed to mobilize our capacities unprecedentedly and quickly during the country's serious energy crisis.
What was it about?
It was quick help in connection with the crisis that broke out in October 2021. In a short time, we managed to get Moldova to cover its gas and electricity consumption. And it was the first time ever that this state could buy energy raw materials from other suppliers, such as Russia's Gazprom.
Why did Moldova find itself in a crisis then?
Pro-European politicians came to power in Chisinau, which Moscow didn't like so much that it started pushing them hard against the wall. It concerned gas supplies. Russia wanted to increase its price in the event that Moldova did not give in to its political demands, which, however, were unacceptable to it. After the outbreak of the Russian war against Ukraine, these problems occur repeatedly. Recently, in the second half of November, Russian missile strikes on the Ukrainian energy infrastructure also caused power outages in neighboring Moldova, even in half of its territory.
Is Brussels lending a helping hand again?
Yes. In financial terms, it was 135 million euros last fall to cover costs related to the energy crisis in Moldova. Two weeks ago, the president of the European Commission, Ursula von der Leyen, visited Chisinau, who informed about another money package in the amount of 250 million euros. After the very unpleasant experience of October 2021, Moldova is already better prepared for the energy crisis, but help from Brussels is still needed.